Marine Park and Reed Park in Santa Monica
CLICK ON THE LINK BELOW TO ENROLL IN OUR 5 STAR ENRICHMENT CAMPS AND CLASSES AT THE DOCKWEILER YOUTH CENTER IN PLAYA DEL REY
Dockweiler Youth Center: Camps, Classes and/or
Special Events
The Premier Funtastic Fitness and Skill Development Program for Preschool Children.

CLICK HERE or the Star above

to learn more about our Fabulously Fun and Educational Programs.
FIGHT & BEAT CHILDHOOD OBESITY WITH STATISTICS, INFORMATION AND PRODUCTS/SERVICES
Statistics on Childhood Obesity, Health & Fitness

Mike Magee and Health Politics: Exercise and Childhood Obesity (October 22, 2003)
-The rates of obesity have more than doubled and tripled over the past 35 years:
*6-12 year olds: Childhood Obesity grew from 4% to 13%
*12-19 year olds: Childhood Obesity and Teen Obesity grew from 5% to 14%
-Due to a sedentary lifestyle, nearly half of young people, ages 12-21 years get little or no vigorous exercise on a daily basis
-Sedentary children are more likely to be obese and obese children have higher blood pressure, higher cholesterol levels and a greater incidence of juvenile diabetes/Type 2 diabetes.
-Childhood Obesity is likely to lead to adult obesity:
*The probability of becoming an obese adult, if obese at ages six, is 50%.
*The chances of becoming an obese adult, if obese at age 13, is 70%-80%.

University of Michigan-Fitness for Youth Program Research (2)
-Nine out of ten parents think their children are physically fit, when actually only one out of three are.

Association for Health, Physical Education, Recreation & Dance (TN) (2)
-Physical inactivity and poor diet together account for at least 300,000 deaths in the U.S. each year.
-The incidence of obesity among young children has doubled in the last 10 years.
-Physical inactivity increases the risk of premature death and heart disease, and developing diabetes, colon cancer and high blood pressure.
-Quality physical education programs serve as the foundation for a healthy lifestyle.

American Journal of Medical Science (2)
-Children who perform better on standardized tests have more favorable body composition and lipid profiles (HDL or "bad¨ cholesterol).
-Programs that increase regular activity in youths hold promise in reducing adult heart disease.

Journal of the American Medical Association (2)
-By 1998, 22% of black children aged 4 to 12, 22% of Hispanic and 12% of white children were significantly overweight --
-Between 1991 and 2000, incidence of obesity increased 61% and incidence of type 2 diabetes increased 44%. These are called "twin epidemics¨ (2001) Note: This has become so prevalent that at least one author now calls it "Diabesity".

American Heart Association (2)
-Parents who model healthy eating and exercise habits greatly influence their children¡¦s health.
-Healthy lifestyle training should start in early childhood.

Centers for Disease Control & Prevention (CDC) (2)
-Each year, physical inactivity contributes to nearly 260,000 deaths in the United States.
-5.3 million (12.5%) American children are overweight or obese.
-71% of American adults are overweight; 30% are obese.

Baylor College of Medicine (2)
-Children today have a shorter life expectancy than their parents for the first time in 100 years because of the epidemic of obesity.

U.S. Department of Agriculture (2)
-70% of overweight children aged 10 to 13 will be overweight and obese adults.

United States Dietary Association (USDA) (2)
-Fewer than half of U.S. school children participate in physical education. (1998)

American Journal of Ob/Gyn (2)
-The average weight of pregnant women at their first visit has increased from 144 to 172 lbs., from 1980 to 1999. (2001)
-Obese women are significantly at risk for cesarean deliveries, gestational diabetes and large birth weight babies. (2001)

MSNBC (September 7, 2004) (3)
Study shows that girls participating in 1-5 hours per week of proper exercise can reduce the prevalence of obesity and being overweight by 10-43%.

Daily News (May 2005)
Risk Factors for diabetes
-Being overweight and/or obese
-Having a family history of diabetes
-Having Latino, African-American, Native American or Pacific Asian Islander ancestry
-Having blackened skin around the neck, groin and under the arms
-From 1990 to 1998, there was a 67% increase in diabetes among California adults. If the current trends continue, 33% of boys and 39% of girls born in the U.S. will develop diabetes. The following table illustrates a link between diabetes and the prevalence of overweight and unfit people in various California Assembly Districts in Los Angeles and Ventura Counties:
Assembly District

Diabetes Related Deaths
per 100,000
1996-2000

Percentage Overweight
2001

Percentage Unfit
2001

36th

97.7

25.8%

51.2%

37th

71.6

23.9%

36.9%

38th

73.6

24.3%

37.4%

39th

114.9

30.4%

53.9%

40th

80.6

26.1%

43.1%

41st

65.2

26.0%

37.1%

42nd

62.7

24.6

43.2

43rd

81.1

28.0%

37.4%

44th

74.4

25.7%

38.4%
NOTES:
(1)Health Politics with Mike Magee, Segment entitled "Exercise and Childhood Obesity", October 22, 2003 (www.healthpolitics.com/program_info.asap?p=prog?18)
(2)Statistics on children's health and fitness were compiled and distributed by Stretch-n-Grow, February 2002
(3) www.msnbc.msn.com/id/5927021
Health Information with Mike McGee
FIGHT CHILDHOOD OBESITY WITH FUN AS PART OF THE SOLUTION
1. FIGHT CHILDHOOD OBESITY WITH FUN: ALL ABOUT TENNIS

2. FIGHT CHILDHOOD OBESTITY WITH FUN: VIDEO GAME BIKE

Have FUN while exercising and getting FIT!
The GAME BIKE turns 45 minutes of exercise into (what seems like) 10-15 minutes of FUN & EXCITEMENT. Our products and product information are listed below. 0% Interest Financing is available. Click here for more information.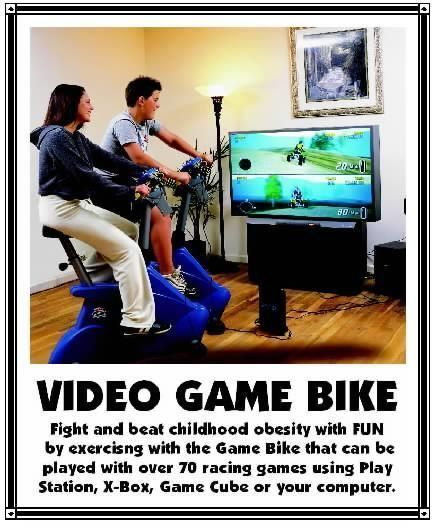 Game Bike Pro Computer Console
This is the computer console that comes with the Game Bike Pro. Just like the professional stationary bikes that you find in fitness facilities, the Game Bike Pro provides a wide variety of exercise results, including time, distance, speed and calories burned. With a Cateye, Hudson or Polar chest strap, it will also monitor heart rate, including minimum and maximum rates.

Accessories for the Game Bikes
Video Games that can be played with the Game Bikes
Exercise Equipment
Email a Friend
DOCKWEILER YOUTH CENTER-PLAYA DEL REY
Camp Pictures-Dockweiler Youth Center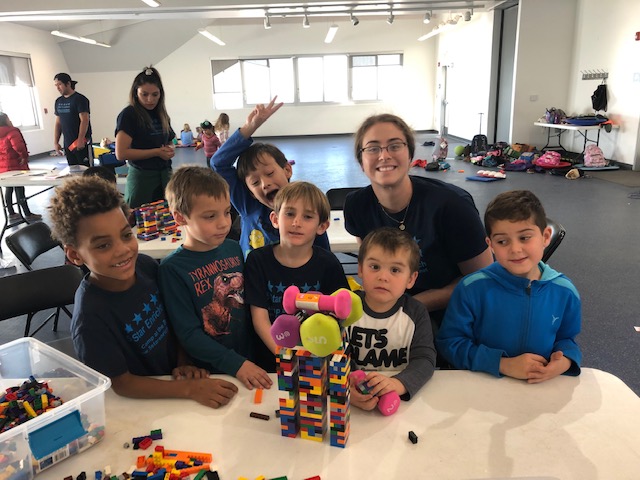 Pictures-Thanksgiving and Winter 2016 Camps