Search by Part Number or Keyword
Product Categories
Welcome!
www.EnginePreheaters.com

Welcome to Industrial Equipment Company, one of the nations leading manufacturers representative and distribution companies. Our company was founded in 1936 and still maintains the fundamental principal of providing exceptional customer service. We have seven offices throughout Texas and Louisiana, and each office maintains a large inventory. Our highly trained team of project engineers, sales engineers and service technicians are eager to assist you. Please contact one of our team members with your requirements. Then be prepared to experience exceptional customer service, just as we have provided for over 75 years.
Product Improvements

HOTSTART is introducing a new improvement for its line of tank style coolant heaters. The thermostat housing assembly will change from plastic to aluminum on all CB/CL, SB/SL and WL
series engine heaters. This will improve durability, performance and installation flexibility. The new thermostat design will be available January 1, 2010.
The updated housing features a 1" female NPT threaded port for easy connections with male NPT threaded adapters. This will simplify hose connections and eliminate excess hose couplers. The new assembly also features easy access to the interchangeable fixed or adjustable sensing unit.
The new thermostat design will be available as a component on thermostatically controlled tank style coolant heaters or as a replacement unit for existing and future HOTSTART heaters. Customers will notice a slight difference in part numbers for heaters that include a thermostat assembly. The three-digit suffixes on existing part numbers will change to -200.

Example of current part number: CB125210-000
Change to: CB125210-200
Acura Embedded Systems
Innovative Solutions for the Harshest Environments
Acura Embedded systems is a designer and manufacturer of ruggedized computers, touch screen and Digital Video recorder for use by commercial business, heavy industries like Oil-Gas, Mining , First responders and Military. We began manufacturing our first mobile computers in 1994 for use in industrial automation and soon moved on to large scale implementation for port automation, First responders like fire, police and ambulance applications. Due to increased demand of rugged computers and panel mount computers for hazard location in Oil-Gas and Mining, we developed and certified our Panel Mount computers for Hazard location computers and Digital Video recorder.
Acura PowerBrick 5.0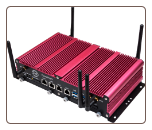 Click to enlarge image(s)
PowerBrick 5.0
The PowerBrick 5.0 is a new generation rugged mobile computer with design based on MIL-STD-810F standard for heavy industrial field mobile vehicular applications such as Oil, Gas and Mining trucks or seaport cranes or even petroleum platform helicopter services. With Intel Generation 3 Core i3/i7 (1.7~2.20 GHz) processor and two fast Solid State Drives mounted in a Removable Dual Hot Swappable SATA Storage which has RAID feature, the PowerBrick5.0 is built to withstand extreme heat, vibration, and humidity environment by using a system that employs a rugged aluminum alloy chassis without fans. Also, its modular architecture allows for easy upgrade and expansions. The size of the PowerBrick5.0 lets us install it in your vehicle in a location that is safe from theft or tampering. The PowerBrick 5.0 utilizes non-proprietary connections so that any combination of external equipment can easily interface with your mobile data terminal.
Login
Note:
All prices in US Dollars
Specials
CL130108-200
Hotstart Large Coolant Tank Heater, 3000 Watts, 120 Volts AC, Single Phase Phase, 80°F-100°F, Conduit Connection, Weathertight.
CL130110-200
Hotstart Large Coolant Tank Heater, 3000 Watts, 120 Volts AC, Single Phase Phase, 100°F-120°F, Conduit Connection, Weathertight.
CL130112-200
Hotstart Large Coolant Tank Heater, 3000 Watts, 120 Volts AC, Single Phase Phase, 120°F-140°F, Conduit Connection, Weathertight.
CTM HOTflowTM Circulating Heating System
HOTflowTM model CTM was developed to preheat diesel and gas engines for stationary land power, marine and construction equipment.
Available in 1, 1.5 and 2.5 kW for CID= 0-500, 500-750 or 750-1200
REEE1151
Replacement Element ASM, TML 1500W 120V EXPL
REPS202T8
Replacement Element for TPS202
SB115112-200
Hotstart Medium Coolant Tank Heater, 1500 Watts, 120 VAC, Single Phase, 120°F-140°F
TT518PD(32/280)F1Z
Minco TT518PD(32/280)F1Z series TT518 Programmable Temperature Transmitter, 100Ohm, 32-280 °F, 3 Lead RTD
TT518PD(32/302)F1Z
Minco TT518PD(32/302)F1Z series TT518 Programmable Temperature Transmitter, 100Ohm, 32-302 °F, 3 Lead RTD
WL350812-200
Hotstart Large Coolant Tank Heater, 5000 Watts, 208 Volts AC, Three Phase, 120°F-140°F, Conduit Connection, Weathertight Enclosure