http://www.columbian.com/business/businessNews/04272006news23684.cfm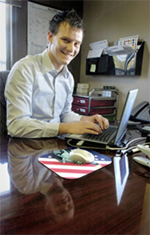 Ryan Moor's silk-screening company, which had $4 million in sales last year, does 95 percent of its business on the web. (DAVE OLSON/The Columbian)
Ryonet Corp. - Screen Play
Columbian.com
Thursday, April 27, 2006
By JONATHAN NELSON Columbian staff writer
Ryan Moor's transformation from pop musician to business owner probably can be traced back to 2002, when the bass player for Not Long After headed out on tour.
Moor loaded his clothes, bass guitar and four T-shirt silk-screening kits into the bus. The Battle Ground native had been making T-shirts for the band to save money and had recently started selling the screening kits on eBay to supplement his income.
But he had a backload of orders and no time to send the kits before hitting the road.
"I finished them up in California and shipped them out from Napa Valley," he said.
Today, Moor's guitar plays second fiddle to his screen-printing supply and equipment business, Ryonet Corp. The 25-year-old Vancouver resident has built this part-time enterprise into a company that had $4 million in sales last year and expects to do more than $10 million this year. Moor hasn't mapped out any long-term plans for Ryonet, other than continual and careful growth.
Chuck Ackerman, a former Ryonet employee and mentor to Moor, said the company's success lies in Moor finding a niche, harnessing new technology and being a slave to customer service.
"He had the foresight to go after beginners and other entrepreneurs," said Ackerman, president of Nortech, a screen frame manufacturer in Arkansas.
Ryonet caters to fledgling screen-printing operations, often started as new or side businesses. The company's Web site, www.silkscreeningsupplies.com, drives 95 percent of Ryonet's sales, Moor said.
Ackerman said the screen-printing business is appealing to people because it's easy to learn and cheap to break into, with quality starter sets costing $7,000 to $15,000.
Moor spent $10,000 to form Ryonet, $6,000 of that spent on Web site development.
Moor is tapping into an industry that generates $60 billion in revenue annually in the U.S. alone, according to the trade group Specialty Graphic Imaging Association.
It wasn't long ago that Moor was one of the customers he now serves. It's that proximity to the target audience that Ackerman attributes to Ryonet's growth.
"He's got a good business head on his shoulders," Ackerman said. "I don't know where that comes from."
Moor credits his parents, who sold Amway products during his youth. He watched what it took to motivate yourself and thought it was cool to be your own boss. He apparently was an astute observer, because by the time he was 16 he created his first business, a mole extraction service. At 18, he formed his own window- and pressure-washing operation.
The two businesses not only taught Moor how to push himself but how to pay attention to his customers.
"The more customers I would keep in touch with and call on more often, the more I would retain their business," he said.
Stability quotient
The band fulfilled Moor's desire to play music, but it also allowed him to maintain a sense of independence. The screening business increasingly became more of a full-time proposition the older Moor got and the more he looked for a stable future.
A breakthrough came when Moor attended a seminar sponsored by StoresOnline, the Web-hosting company that built Ryonet's Internet presence. It showed Moor that his customer base wasn't limited by geographical boundaries.
Moor also considers the hiring of Ackerman as a milestone in Ryonet's early history. Moor said at the time he couldn't really afford Ackerman's salary but considered his expertise too valuable to ignore.
Moor met Ackerman by chance. Moor was buying products from the Portland company where Ackerman worked.
The two started talking, and two hours later Moor left with a head filled with ideas and advice offered by Ackerman.
A few days later, Ackerman received a gift certificate to a local restaurant. It was Moor's way to thank Ackerman for taking the time to talk.
"That really impressed me," Ackerman said.
RYONET CORP.
WHAT: Ryonet sells screen-printing kits and supplies primarily through the company's Web site,
www.silkscreeningsupplies.com
.
PRESIDENT AND FOUNDER: Ryan Moor.
2005 REVENUE: Gross sales, $4 million.
EMPLOYEES: 18.
WHERE: Offices, manufacturing and shipping are at 11410 N.E. 72nd Ave. in Vancouver.